A GUIDE TO FRACTIONAL (OR SHARED) OWNERSHIP
February 24, 2022
Flexjet's primary program offering is fractional (or shared) ownership of our exclusive private jet fleet. But what is fractional jet ownership? Here we explain the concept; how it compares to other forms of private jet travel; and what makes Flexjet stand out from the rest.
What is fractional jet ownership?
Let's start with the terminology: Fractional ownership is a term that originated in the USA to denote a program of partial private jet ownership. In Europe and elsewhere, it is also known as shared ownership. In practice the terms fractional ownership and shared ownership are often used interchangeably. Some people also reference a similar arrangement in the property sector, by calling it a private jet timeshare.
Either way, fractional or shared ownership with Flexjet essentially means you buy and own a portion of a private jet which is then professionally managed by one of the world's largest, most secure and long-established private aviation groups.
How does fractional or shared jet ownership work?
Fractional jet ownership was originally born out of solving the challenges of whole aircraft ownership. While having your own private jet represents unparalleled freedom, it also comes with very significant financial costs and considerations. Both the initial (often multi-million dollar) investment and the many unpredictable ongoing costs, such as crew salaries and training, maintenance, management fees and insurance.
So fractional or shared ownership was created as an aircraft ownership solution, to provide the benefits and exclusivity, but without the large capital outlay and unpredictable ongoing costs. All of the operational complexities of managing an aircraft and crew are handed over to your fractional ownership provider, so it is a hassle-free option as well as a more financially viable one.
The underlying principle of fractional jet ownership involves buying an equity share of an aircraft, which gives a number of flying hours per year on the aircraft type. When talking about fractional or shared ownership, you will often refer to the number of hours you have, in addition to the proportion of an aircraft that you own. Owners will typically make their investment for a 3-5 year period, after which point, they can reinvest or sell their equity back to their provider.
Flexjet Owners invest in a share ranging from 1/16th (50 hours) to 1/2 (400 hours) with each level giving an Owner a portion of the 800 flight hours available per year on each aircraft. For example, a one-eighth share entitles an Owner to 100 flight hours annually.
With Flexjet, your fractional jet ownership share is made in a specific aircraft type, such as a Challenger 350 or a Gulfstream G450, but with the flexibility to switch to different cabin sizes according to your flying needs, at fixed interchange rates. At Flexjet the investments made by our Owners also allow us to continue to invest in further aircraft, and we offer the most modern fractional ownership fleet in the industry.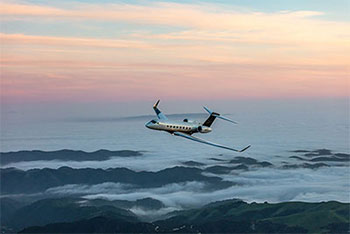 What are the benefits of fractional or shared ownership?
Buying a share or a fraction of a private jet retains many of the advantages of outright private jet ownership including privacy; elevated service; and the immediacy of aircraft at your disposal – whenever you need to fly. At Flexjet, our Owners enjoy an exceptional luxury experience on every flight, with our experienced crews and dedicated Owner Service team providing a highly personalized service, along with guaranteed availability within hours.
Owning a share or a fraction also gives many advantages beyond outright ownership in terms of costs and convenience. You'll never have to worry about aircraft logistics or unexpected aircraft downtime; or how to recruit crew.
In addition to consistency and guaranteed availability, when you fly on Flexjet's shared ownership fleet you benefit from the exceptional safety and service culture of one of the world's leading private aviation groups, offering modern, exceptionally-maintained aircraft with impeccable, high-spec interiors that consider every detail.
Fractional or shared ownership with Flexjet
At Flexjet we provide shared ownership of our premium fleet of the latest private jet aircraft, which in North America includes the Embraer Phenom 300, Praetor 500, the Bombardier Challenger 350, the Gulfstream G450 and G650.
To discover more about our programs, contact our team via our website or call us at 866-473-0025.